Used for both office and industrial searches, intelligent targeting is Waltons way of ensuring comprehensive coverage whilst avoiding waste. Our linking of branch sites and the HQ based property contact in larger organizations enables us to be selective. We can demonstrate our considered approach when building an occupier list as follows.*
PRIMARY AREA
Most occupiers relocate close to their existing property so the most senior contact at branch sites within 5 miles are captured together with the property contact whether based locally or remotely. The importance of the Primary Area means we advise total coverage.
To include national multi-sited occupiers who don't already have local representation request Target Audience PLUS at quotation stage.
SECONDARY AREA
As some organizations are area-specific, using intelligent targeting ensures we only include those occupiers who could potentially relocate or expand into the subject property's city/town. Whilst HQ based property contacts and sole sites are included, branch sites located in the Secondary Area are unlikely to have any interest in the subject property and are therefore excluded.
* For guidance purposes only. Search methods can differ from property to property depending upon our brief.
Click here for Top Companies & Specialist Listings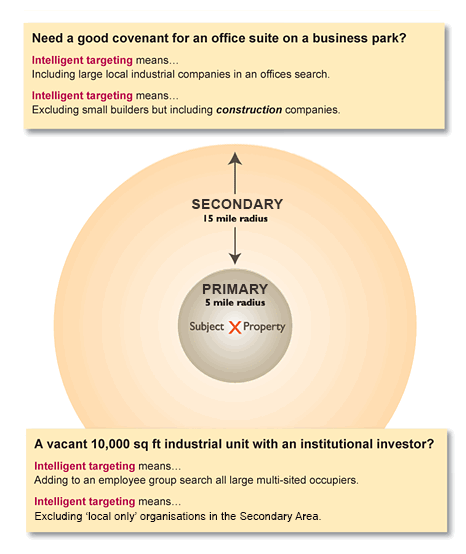 Thanks for arranging for the Somers Place Industrial Estate mail out. It certainly generated a number of enquiries and we are currently talking terms to a couple of potential occupiers which is a great result.
Sam Baly, CBRE – March 2020

Fab Cathy, I will be back for more shortly no doubt!
Brian Ricketts, MRICS, Partner, Hitchcock Wright & Ptnrs

Very satisfied thank you. I even had enquiries as a result.
Andrew Hardwick, Partner, Williams Gunter Hardwick

Very happy with the data, thank you.
Will Sadler, RICS, Associate Director, Legat Owen

Thanks, it worked well.
Tony Wordsworth, Director National Markets - Offices, Bilfinger GVA

Very satisfied with the service, thank you. I will certainly be using you again in the future.
Tom Fairlie, MRICS, Surveyor, Dowley Turner Real Estate

We were very happy with the service, the product was great and delivered with efficiency.
Miranda Hickman, Surveyor, Office Agency, JLL

Very happy indeed with the product and service. We will continue to use Waltons in the future.
Greg Dalton, Industrial Agency, CBRE

Using Waltons data and occupier mailing service we were very pleased with the positive response achieved and will be using them again in the future.
Phil Frenay, Partner, Crossland Otter Hunt LLP